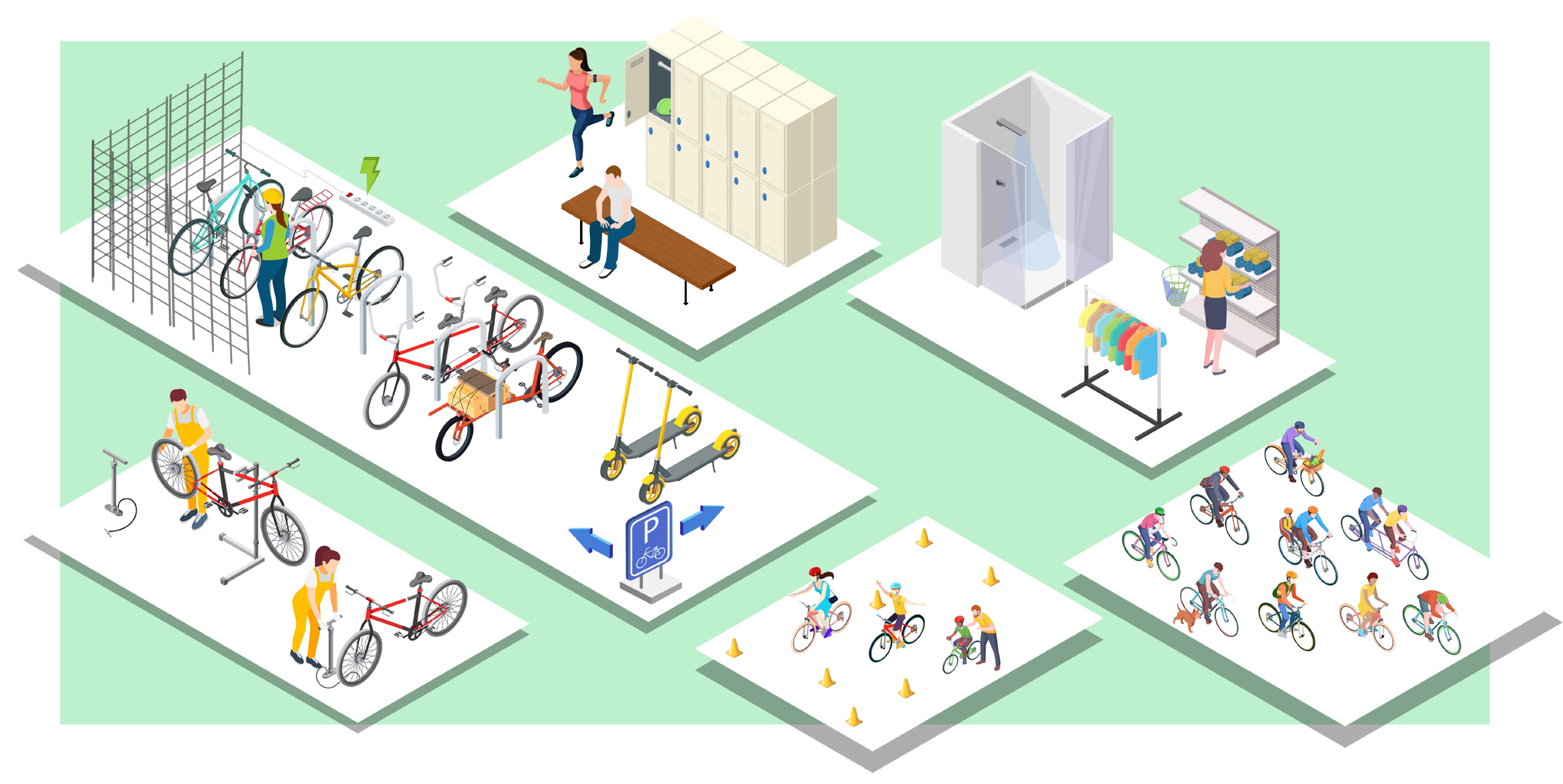 What is active travel?
Bicycling, running, and walking are all forms of active travel, along with emerging modes like e-bikes, e-scooters, scooters, cargo bikes, folding bikes, recumbent bikes, and skateboards. These are all cheap and efficient ways to travel, that contribute to people's health and the health of our cities.
As commuting trends evolve, influenced by the impact of Covid-19 and the rising cost of fuel, the built environment needs to reflect and support these changes. Updates to publicly funded planning policies and urban design guides can take years, resulting in outdated solutions for old problems. Real-estate certifications like ActiveScore allow new standards to be implemented quickly and in sync with global trends.
What is ActiveScore Certification?
It is the definitive, globally recognised accreditation for active travel amenities in real estate. ActiveScore assess and rate buildings, using a transparent methodology developed in partnership with urban planners and active travel experts. Our certification celebrates buildings that offer world-class facilities and highlights sustainable design, tenant well-being as well as ESG standards.
Our assessment methodology is divided across Infrastructure (70%), Tenant Engagement Services (20%) and Future-proofing (10%) generating a total rating out of 100. The methodology is designed to enable improvements regardless of the scope or budget of the development.

On a more granular level, the assessment criteria are tailored to reflect local planning regulations and infrastructure requirements. Depending on the location, other certifications such as WELL, BREEAM, LEED and GRESB may be referenced throughout the assessment process. ActiveScore certification is designed to exceed local planning guidance and regulations, with the aim of enhancing and recognising world-class end-of-trip facilities.
Why do we need active travel?
Reducing emissions
"On average, more than 60% of the carbon impact of a building in Brussels is created by commuting." (Urbanite Advisors research, 2022)
Transportation accounts for about 27% of greenhouse gas (GHG) emissions in the US (Environmental Protection Agency, 2020), making it the largest contributor to GHGs. Incentives to work from home, car-sharing, efficient public transport, and a thriving culture of active travel can all help reduce commuter emissions.
ActiveScore assessment includes a building-specific Clean Air Calculator that highlights the average quantities of CO2 and PM2.5 emitted per mode of local transport. This calculation provides a baseline from which the total Scope 3 emissions saved by active travel can be modeled.
Facilitating health and well-being
Active mobility is good for the environment and good for people. According to research, active commuters take fewer sick days (1.3 days less per worker annually – Hendriksen et al., 2010) and 82% reported feeling less stressed at work (Cyclescheme, 2019).
Daily physical activity is widely recognised to lower the risk of depression by up to 30% (Department of Health & Social Care, 2019) along with a range of health benefits, such as reducing the risk of disease, managing existing conditions, and developing and maintaining physical and mental function.
The business case
Application of ActiveScore criteria can help buildings gain credits for other certifications such as WELL, BREEAM, and LEED.
Well-designed active travel facilities can help attract and retain staff and tenants. According to the U.S. Census, bicycling has become the country's fastest-growing form of transportation for commuters (Urban Land Institute, 2016). Research into the determinants of bicycle commuting in Washington, DC (Ralph Buehler, 2012) noted:
– Commuters with showers, clothes lockers, and bike parking at work are 4.86x more likely to commute by bicycle.
– Individuals with bike parking, but no showers and lockers at the workplace, are 1.78x more likely to cycle to work than those without trip-end facilities.
– Workers with free car parking at work are 70% less likely to cycle to work than those without free car parking.
ActiveScore's approach
ActiveScore's goal is to get people moving. We aim to do this by increasing awareness of the benefits of active travel alongside the need for high-quality active travel facilities. Our assessment report covers everything, from routes to improvement on specific topics like wayfinding, to championing the sustainability benefits of active commuters.
We are living through a moment of positive change for transport. People are switching to cleaner, greener, healthier modes of travel and moving away from the car-centric, fossil-fueled culture of the past one hundred years. Redesigning roads and infrastructure to favour pedestrians and bikes makes even more sense when buildings actively support active commuters.